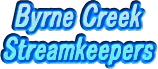 Home > Activities> Spawner Survey
Spawner Surveys
The Byrne Creek Streamkeepers strive to enhance the salmon population in the creek. In May we release chum salmon fry and coho smolts. To see how successful they are and how many of them come back to our creek, we count the number of spawners that return. We patrol the spawning habitat and the creek for dead fish, and measure them and cut them open to see if they have released their eggs or milt. We are able to see how the stream's health is changing over time.
When do salmon spawn in Byrne Creek?
From as early as September to as late as December.
We all know dogs like to splash about in the water, however we ask dog owners to keep their friends out of the creek from early autumn through spring so they won't disturb spawning activity or uncover redds, the nests of eggs left by the fish.
Below are some posters we made to remind people not to disturb the spawning gravel or bother fish.
Results
---