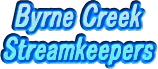 Home > Activities> Fish Trapping
Fish Trapping
Why do we trap fish?
We trap fish to find out what kinds of species are present in the creek, and get some indication of numbers in several locations.
How do we trap?
Gee trapping (picture below) is most frequently used for this purpose. The Gee trap splits into two pieces to easily add bait and safely remove fish. You can adjust the trap to catch certain sizes of fish by covering it with fiberglass fly screen to retain small fry, or by enlarging the opening to catch larger fish. We set the trap in slow-moving water near instream cover (Streamkeepers Manual Module 11), where fish are most likely to hang out. Usually fish traps are left overnight, so please leave them alone if you happen to spot them.
Fish trapping without a licence is illegal. Byrne Creek Streamkeepers get permission from, and report results to, the Department of Fisheries and Oceans.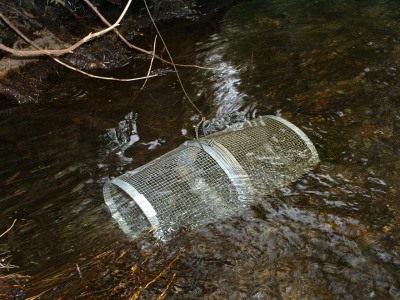 Results
47 cutthroat trout and 2 coho from 10 traps (see map below).
TRAP
LOCATION
TEMP
(Celsius)
Cutthroat
Coho
(NOS)
(CM)
(NOS)
(CM)
1
40m D/S of T516
-
10
9-15
-
-
2
T519
7.5
5
8-15
-
-
3
40M U/S of ~T521
8.0
2
10-15
-
-
4
T522
8.0
4
10-15
-
-
5
T524
-
4
8-10
-
-
6
T527
8.0
5
8-10
-
-
7
T530
8.3
6
10-15
2
13
8
T534
-
8
10-18
-
-
9
T536
8,8
2
10-13
-
-
10
T539
9.3
1
13
-
-
TOTAL
47
2
---