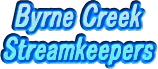 Home > Join us!
Regular Monthly Meetings
Meet some friendly streamkeepers who have FUN while protecting their watershed.
We range from kids to grandparents, we're housewives and artists, we're entrepreneurs and sports fishermen, and some of us are even environmentalists. We all get along fabulously :-).
We're long-term Burnaby residents, and we're new immigrants. We love our creek and the diverse wildlife and vegetation it supports. Stick your toe in or dive in all the way, and we'll appreciate whatever you can contribute.
We review what we've being doing, plan future activities, and try to get a speaker to entertain and educate us. Previous guests include the Burns Bog Conservation Society, the City of Burnaby planning and engineering departments, and the Burnaby Village Museum.
Next Monthly Meeting on Tuesday, June 4, 7:00 p.m. at the Tommy Douglas Public Library near the corner of Kingsway and Edmonds in SE Burnaby.
Members and active volunteers can sign up for our mailing list. Please contact Paul at the link below:
Contact us:
Byrne Creek Streamkeepers Facebook Group
Website: www.byrnecreek.org/
---