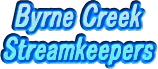 Home > Activities > Clean-up
Creek Clean-up
We are very fortunate to have the beautiful Byrne Creek Ravine Park in an urban area of Burnaby. You can walk the trails listening to the sounds of the creek, jog with your dog, or just sit on a bench, relax and listen to birds singing.
However, the quality of the time you spend can be ruined by litter. It can not only shatter your peace of mind, it can damange the environment. For example, dumped oil may leach into ground water and contaminate the creek. Or toxins in litter may enter into the food chain to the detriment of wildlife (Bio Magnification).
Byrne Creek Streamkeepers organizes creek cleanup events. This year during Environment Week (the first week of June) we had many local participants including the 1st SW Scouts. We started at 10:00 a.m. on June 8 and ended at noon.
Map by David Burkholder
We split people into small groups and used the map as a guide for cleaning up. We found six shopping carts, a wrecked TV, many tires, an oil barrel and a lot of other garbage in two hours. It is unfortunate there was so much junk. On the other hand, it was very plesant to work with many local people who are keen to keep the creek clean.
We would like to thank the City of Burnaby for its support, and particularly Mark Padula and Derek Mitchell from the Parks Department whose initiative in positioning their truck saved us a lot of effort in hauling refuse.
A donation of coffee and timbits from Tim Hortons was a nice, unsolicited surprise. We appreciate such community service.
---